Ticket Labels Melbourne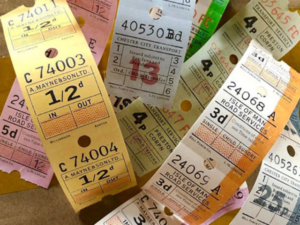 Fantastick Label Company specialise in printing custom non-adhesive tags and ticket labels in Melbourne. We've worked with businesses from diverse industries to design an array of custom ticket labels and tags. High quality and affordable, our ticket labels are a great way to identify, trace and track your products. Our tickets are perfect for event ticketing and could be sequentially coded with alpha-numeric characters. We print custom ticket labels in any size, shape, and colour to suit any application. We have extensive experience in custom ticket label printing for transportation companies, comedy clubs, theatres, event companies, and sports clubs. We use cutting-edge, modern printing technology to create high-definition, full-colour, and impressive tickets and tags.
CUSTOM DESIGN
All our tags are custom designed to your specifications. We can design your ticket/tag to include your business logo, website, phone number, and any other specific information. Whether you are looking to redesign your tag design or craft a new one from scratch, our graphic designers can help. We will work with you to breathe life into your ideas and create a ticket design that stands out.
BUILT FOR EXTREME ENVIRONMENTS
Our tags are built for outdoor extreme environments. Our tags are waterproof, UV resistant and tear-resistant. Ensure all the critical details stay intact and legible with us.
Strong, Durable Tags
Our tags are tear-resistant and can withstand harshest of environments. When you want to tag a product, you want to make sure the tag will stay intact. Our tags won't simply blow away.
WIDE RANGE OF MATERIALS
We offer a wide variety of materials to suit your needs.
Valeron – Valeron is a polyethylene film with cross-lamination. It is made using a proprietary process. The resultant film is generally used in packaging, construction and print applications. Valeron boasts excellent weather performance, tear-resistance and is extremely tough, stable and strong.
Tyvek – Tyvek is a durable, lightweight synthetic material that has become popular for its unique features. It is used in a variety of industrial and business environments. Made of ultra-fine fibres, Tyvek is versatile, strong and very difficult to tear. Furthermore, it is resistant to flames, water and chemicals, which makes it a perfect choice for use in high-risk environments.
Cyclone – Cyclone is a synthetic paper made of polypropylene. It can resist extremely harsh climatic conditions. It retains its shape even in the hottest climate and resists cracking even in extremely cold environments. It boasts a long outdoor life and can resist UV-rays and water/ It is also recyclable and tear-resistant.
What We Can Do for You!
Bright, full-colour tags that allow for quick identification and differentiation.
Finished as fan-fold stacks or rolls.
We cater for special shapes, pop out hole punches or inner perforations for tear-off sections.
All tags available in an array of thicknesses and weights.
Print both sides of tags and tickets.
All our tickets can be sequentially coded with alphanumeric characters.
We are Here to Help!
Ticket Labels Melbourne
At FLC, we strive to offer our clients a professional, reliable and friendly service at all times. Whether you have a question or need help with your project, we are here to assist you at every step of the way.
Contact us today to discuss your labelling project.