FOOD LABEL PRINTING - MELBOURNE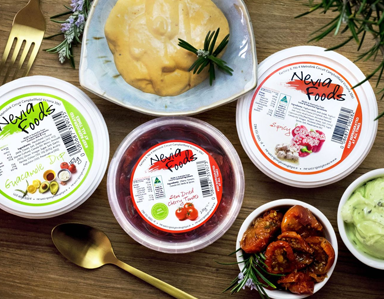 At Fantastick Label Company, we can design and custom print food labels for clients throughout Melbourne.  
Enhance your food product packaging with our range of custom sticky labels and foil printing services. With custom designed printed stickers and labels, you can provide product information in an eye-catching and informative way, helping your products stand out from the crowd.
You can select from pre-designed templates, adding your product information, manufacturing details, company logo, nutrient chart, and brand details. Or our designers can work with you to create fully customised artwork and layouts for your labelling. Our team can help you choose the right shape and size of the label to ensure the perfect fit for your products.
Using professionally printed food labels will help you increase brand awareness and sales. The labels are clear and detailed, and you can add essential information about food products such as the ingredients, dietary information and regulatory requirements.
CUSTOM FOOD LABEL STICKERS
We use premium quality materials to ensure the best possible labelling for your products. We can provide digital labels with a water-resistant vinyl coating suitable for fridges and freezers.
Available in a range of finishes from high gloss to elegant matte, you can customise the look and finish of your labels to suit your products and brand.
Our custom printed labels and stickers are self-adhesive and designed to stick to any packaging surface or material.
We provide a fast turnaround time on all printing services regardless of the size of the order.
CUSTOM MADE FOR ANY PRODUCT
We can custom design and print food labels for just about any food or beverage products. Whether you're looking for wine or beer labels, labelling for bulk food products, fridge or freezer proof labels or any other type of food and beverages labels, we are ready to help.
We provide expert advice and can walk you through the design process from start to finish. To discuss your label printing requirements, give us a call on 1300 940 217 or contact us online.